Wenthworth Falls, New South Wales, Australia.
Wow.. I feel excited, thrilled and amazed. And a bit disappointed too. Today is the last day of my tour through the Australian landscape, this afternoon I will be back in Sydney. I drove from Port Macquarie to Katoomba yesterday so I could spend yesterday afternoon and this morning hiking in the stunning Blue Mountains. But I woke up with heavy rain! No hiking! This sucks. But the video is funny. I just saw it back and I made myself laugh.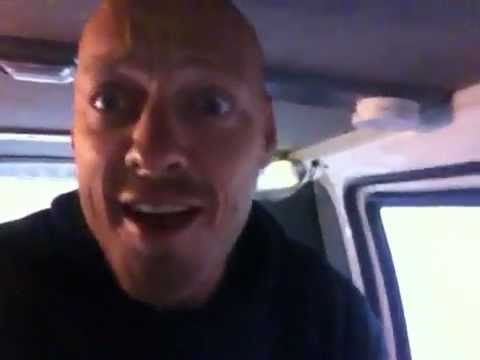 When I left the parking lot of the Wentworth Falls National Park where I slept all alone in my van the rain turned into snow! And when I drove up to Katoomba to find some wifi the snow got denser and denser and before I knew it I was in congested traffic and cars slipping and sliding all over the place.
I was able to turn around before I got completely stuck. Also I was not looking forward to another car sliding into my van because all damage under $ 2500,- comes out of my pocket, even if it isn't my fault (don't you love how insurance companies and car rental places make sure that they dodge responsibility but still make you pay for insurance?).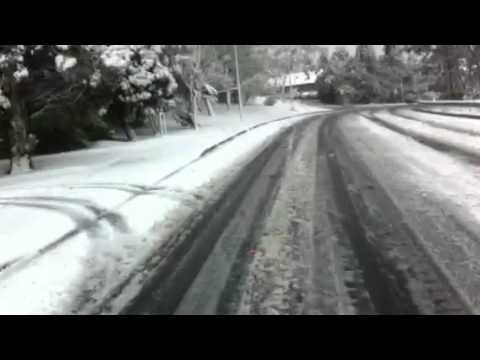 But still, it is exciting. How fast can the weather change? How much impact has two hours of snowing? The whole world looks different and everybody's lives are turned upside down. People can't get to work, roads are closed, cars get stuck. People start to help each other. I just pushed a pick up truck with helplessly spinning wheels up the hill with my bare hands (yeah, me Tarzan). It shows to me how little we have to say about our lives. We cannot turn the river, we can only gently move along.
Now I am sitting in a place with a fireplace. I feel like I am on winter sport. A buch of kids just came in looking like they just came out of South Park. Unfortunately this town has no wifi spots so I have to post this later today. But at least I found time to write.
In two hours I will go see John in Sydney. He is the guy who I met in the sea in Byron Bay a couple weeks ago. He wrote me later how he felt that our meeting was meaningful and timely for him: as if it was 'meant to be'. A week later a pebble hit my windshield and it needs to be replaced. It is much cheaper to have it done myself instead; the hippie van rental will charge me $ 550,- (naturally damage to the windshield falls outside the standard insurance). So I am thinking: how to find a car repair place that won't screw me over? And then I realize: John! His emails come in as "Action Mechanical Repairs": he has a car repair business! I gave him a call and it is 'sorted' as they say in Australia. It was meant to be.
I will share another amazing story around synchronicity this afternoon. But what seems to be happening is that things fall into place magically. I am really blown away by that. I feel grateful, I feel trust and I feel happiness. We are organizing 3 last minute events in Sydney coming week. The time to get the word out is really, really limited. But I don't feel stressed at all. It will work out fine and the people who show up will be exactly the right people. I look forward to the unfolding of my last week in Australia.
Do you appreciate what I am doing? Please support me and my journey by recommending and sharing my posts on Facebook. It is such a small effort and really important (let me explain). And please consider making a financial, moral or relational contribution. Your help means a lot (read here how amazing it feels).