When you meet Satya for the first time you might get the impression that she is fragile. This impression won't last long. Her frame might not be very big; her presence is undeniable. By looking into her clear brown eyes you might feel that you are drowning but you are not. You will notice that she is actually holding you and that you are completely safe. It is a very rare feeling
Satya was born in 1960 under the name of Katiza Ivulic. She grew up in a warm family in Chile. As long as she remembers she felt more than others and was deeply in touch with nature. If her mother would ask the little girl to pick a flower to use for decoration she would walk into the garden to find the flower. Once she would stand before the flower with the scissors in her little hand she realized she couldn't do it. It was just impossible for her to hurt the flower.
At the age of 13 she died in an accident. She learned how it feels to be 'on the other side'. Part of her wanted to stay there. She could see her body, the doctors and the grieving family members. It was the screams of one of them that made her go back to the earthly realm and back into her body. But the experience of light and love had changed her profoundly. She had no fear anymore. Her path towards spiritual awakening had started. And it never stopped, really.
Before I met Satya I still believed that yoga was for skinny and flexible people and that it was fore mostly beneficial to the body. I also had heard that by doing yoga one prepares the body for meditation. I saw it as some kind of warming-up. I thought it would be good for me because I am not so flexible and know that it is important to work on our 'terra incognita'. When I came over for tea I did not expect to look a warrior in the eye.
Satya and her soul mate, lover and teaching partner Sahaj are the spiritual driving force behind the Balinese yoga retreat Kura Kura. Expect more a monastery than a resort. This is a place for spiritual growth. The garden is beautiful, the rooms peaceful and the shala is serene. The whole place breathes the stillness and the kindness of the teachers.
Satya is a warrior and she knows it. She had been leading a live organized around awakening, practice and yoga for years before she realized it was a full and complete commitment. She realized she had to sacrifice everything and give herself completely to helping others. She consciously chose to become a warrior of light.
Her name is given to her by one of her teachers. Satya means "The Truth Which Equals Love". I honestly dare to say she embodies that. Since I am a guy who specializes in seeing what is 'not good enough' in myself and others I have developed a pretty sharp eye for even the tiniest human flaws. Satya is the first being that I spent time with that I did not catch once. In every moment I spend with her she radiated honesty, kindness, wisdom, grace, strength and joy. That I was unable to catch her was well made up by the fact that I got to catch myself many times.
What touched me most was her unconditional trust and her modesty. She gives you the feeling that both you and her are special and ordinary at the same time and whatever she has got is available for you too. No doubt. To me she came across as a master warrior in disguise. I asked her why she sometimes seemed to hide her wisdom. She told me that even when you are a very rich man it doesn't mean you have to show off your gold all the time. And that she was essentially a very shy person. That was a very good lesson for a guy who is afraid to go unnoticed.
I feel full. I feel that Satya is under my skin, working on me. I feel blessed to have met her. She is a warrior, a gem of humanity. She taught me by example that is truly possible to rest in emptiness. She lives her life gracefully yet simply and in service of the Divine by helping others. She is The Truth That Equals Love disguised as a yoga teacher.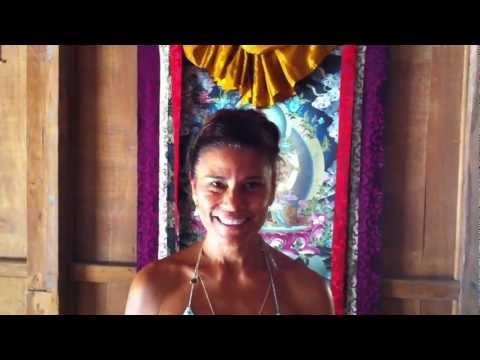 Do you appreciate what I am doing? Please support me and my journey by recommending and sharing my posts on Facebook. It is such a small effort and really important (let me explain). And please consider making a financial, moral or relational contribution. Your help means a lot (read here how amazing it feels).