Bus from Chiang Rai to Bangkok, Thailand.
I am on the bus to Bangkok from where I will go to Koh Phangan. It is a sleeper coach and about a million times more clean and comfortable than the buses I have been in in India. Thai are not very tall people but I guess they appreciate the concept of leg space. In front of me is a movie playing with Denzel Washington, dubbed in French and subtitled in Thai, just to make sure that I won't watch.
Yesterday I went to Phra Khru Ba's monastery. Initially I felt quite confident but once I was in the taxi and was getting closer every minute I got quite nervous. I made a video just before I entered. At that moment I wasn't sure what would happen next: my idea and hope was to stay there for about a week. I felt fear of rejection, of being unwelcome and of intruding. Then I went in.
Here is the video: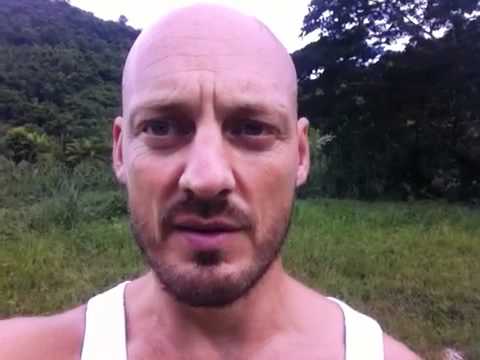 The temple grounds were clean, well-kept and radiating peace. It was also quiet in the sense that there were no people. I found somebody who took me to the head monk. I had a self-written letter in my hand, translated into Thai by the kind young owner of my guesthouse in Chiang Rai (Ben's Guesthouse, I recommend it). As the monk spoke no English I could only hand him the letter and wait for a response like a.. I wanted to say school kid but the image that comes up is from an orphan from a strange country who has a letter in his hand that he can't read himself and his future depends on the reaction of the reader to that letter.
By the way, the movie has just ended and it seems that the whole bus has gone fast asleep immediately. It is 8 pm and the screen of my laptop is the only light in the bus now, the rest is dark. No sounds, no movements, not even snoring. I find it admirable how easy all these people surrender to what is.
After the monk was done reading somebody was called who spoke a bit of English. I was told that Phra Khru Ba's mother had just died. The funeral will be tomorrow. Because of this Phra Khru Ba was quite busy with the preparations. There was quite some discussion in Thai, there were now about 4 people in the office. I think they found it hard to disappoint me but I felt quite embarrassed myself and I had no intention to make use of any available slot in his agenda the day before he had to bury his mom. I tried to give words to my feelings in the most respectful and humble way available to me, not wanting to insult anybody by leaving abruptly. So half an hour after my nervous entry into the monastery I was on my way back to Ben's Guesthouse. It is strange how it goes: first I wanted to be there and was nervous if I would be accepted or not and a bit later I am happy to leave because I feel I can cause some relief by not being a burden during sad and personal times. I didn't go completely empty handed though: I was told that I am welcome in the last week of this month. I will see how that goes because it implies that in a week from now I have to make the 1200 km trip again (plus 720 km back to Bangkok). And it's not just almost 2000 additional kilometers; there were a lot of mosquitos too. But I don't think I will reject an invitation from this man. There is a beautiful picture of him on a banner at the front gate of the temple. The same picture was given to me as a poster. When you look at this picture alone you get a peaceful feeling.
Here is the video I made when I was on my way out again: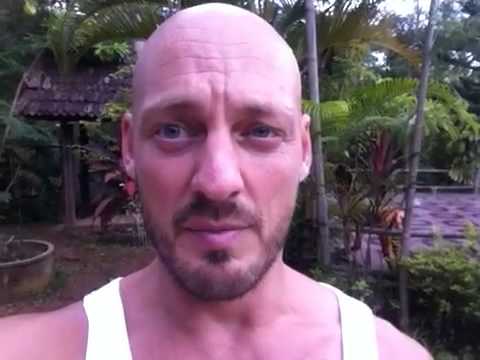 Today I wanted to spend my last day in Chiang Rai useful and I am trying to surrender to my role as a tourist. The main attraction here is the White Temple so I should go check it out. Instead of going by taxi I rented a scooter. I felt really free and I liked driving through the villages and the rice fields and asking the way to very friendly people that responded in Thai to me. Eventually I found the temple. Although the temple is both beautiful and impressive it also an attraction that is 'done' quite fast: you can look at it from the outside and there is one room you can see from the inside and that's it. Then I realized: it really is more about the journey than the destination. The fun and the excitement were in the finding of the way, driving on a fast scooter on the wrong side of the road (Thai drive left, like the British), feeling the freedom and a bit of adrenaline and experiencing the people. Just like taking the wrong route in the Himalayas was a great experience, even though I never reached the destination I had in mind. I feel the same way about my attempt to meet Khru Phra Ba: the experience had a different outcome then expected but everything until now has been a journey, from the moment I decided to visit him until now, in the bus to Bangkok from where I will fly to Koh Samui (and take a fast catamaran to Koh Pangan).
What I am finding is that leaving my comfort zone and going out, exploring the unknown broadens my horizons. There is always something new to discover. From going rock climbing to trying mysterious street food (I accidently chose something with chicken livers and kidneys and it actually tasted nice) to renting a scooter or visiting the temple of a remarkable monk: it all opens up new possibilities and annihilates preconceived ideas. And it is the losing of the preconceived ideas that bring the freedom.
PS: This whole post with text, pictures, videos, everything is written and published online from a bus driving through Thailand. Ain't modern technology amazing? Thank you iPhone, AirBook and WordPress. Now I will share this on Facebook and I can go to sleep. See you in Koh Panghan!
Do you appreciate what I am doing? Please support me and my journey by recommending and sharing my posts on Facebook. It is such a small effort and really important (let me explain). And please consider making a financial, moral or relational contribution. Your help means a lot (read here how amazing it feels).