Dharamsala, India.
And then everything is different again. Last Sunday I jumped on a plane. I was convinced that I would find a place in the Vipassana Center here in Dharamshala. At this very moment I should not be typing in front of my hotel room, I should be working on my spiritual liberation in a meditation hall a few kilometers from here. Or, the other scenario, I should be on my way back from a hike to gorgeous waterfall. But things change over and over again.
I traveled together with my young Israeli hiking buddy from Leh to here. We took a flight from Leh to Jammu and then a bus to Dharamsala. Jammu was an awful place by the way: hot, dirty, poor and somewhat hostile, filled with many beggars and many people ignoring beggars. It feels uncomfortable to do as the Romans do but giving to beggars is strongly discouraged and they (the beggars) are quite aggressive as well. Neither giving nor not-giving feels very rewarding. Don't expect to transform the aggression into gratitude by giving something.
Haha, there is a young Tibetan boy from the school across the street waving at me and flexing his biceps when I wave back. When they saw me come out of my room yesterday to meditate on the roof in my board shorts they wanted me to flex mine. For all Asians my arms seem to be awe-inspiring but the children are especially impressed. But I don't flex for free anymore. When the guys of the espresso bar asked for a picture with me I asked a piece of banana cake in return (and got it). When the kids ask me to flex, I ask them to flex too. Now they are continuously flexing when they see me. I just made a video of them.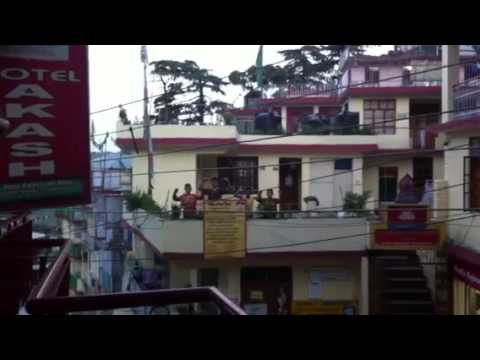 Good, I feel better. The children cheered me up. It is beautiful how irresistible a child's innocent spontaneity is and it is nice that I can make them happy and laugh just by showing my arms. Their happiness is contagious.
So the Vipassana retreat didn't happen. When I arrived on Monday to see if they had a spot one of the coordinators 'welcomed' me by resolutely shaking no-no-no-no with his head and closing his eyes. Not much openness there and not much room for a dialogue either. To be honest: the whole place felt rigid and closed and on some level I felt relieved to not have to be part of that. But on another level I don't understand: I felt so ready and so convinced that it would happen. I can only conclude that my 'gut feeling' doesn't mean anything.
Or does it? Because Dharamsala is a very nice place filled with hiking opportunities and yoga and meditation. Maybe I am here to hike. The hike we did in Monday was awesome and this morning we would go to a waterfall. A plan was quickly made. This morning I knocked on my fellow travelers door to see if he was ready for breakfast. Guess what? Out of the blue he got terribly sick the night before. He slept till 6.30 in the evening. Then I woke him up because I wanted to check if he was still alive.
Three friends are getting married this year and I have to accept that I can't be there. I really wanted to see my best friend before his marriage and we planned to meet in Thailand. Yesterday I heard he can't make it. I was also hoping to meet my brother there: looks like he can't make it either.
I don't feel very disappointed anymore when things don't go as planned but it doesn't make me feel very happy either. I am not sure if I am getting numb or flexible. Part of me wants to understand why things happen as they happen. We like to say that everything happens for a reason, right? Well, another part of me wants to give up figuring out stuff. Things happen and I don't know why. I don't see a pattern. The only pattern that I see is that my mind wants to grasp but can't. Holding on to expectations is useless.
When I look closer I feel lonely and defeated but strangely enough it comes with a feeling of liberation too. Circumstances and others are not what identifies me. Friends, money, success, failure, rejection and popularity are not what identifies me. I have less and less to lose. It scares me, it makes me feel naked and unprotected. But when I breathe into the sadness and vulnerability I realize that this is how I connect to basic goodness: nothing to gain, nothing to lose, just living this very moment.
Do you appreciate what I am doing? Please support me and my journey by recommending and sharing my posts on Facebook. It is such a small effort and really important (let me explain). And please consider making a financial, moral or relational contribution. Your help means a lot (readhere how amazing it feels).