Gokarna, India.
If somebody would take a picture of me now I hope I will not show up if I decide to run for president some day. I am in Gokarna, a hot but pristine place south of Goa, about 17 hours traveling from Mumbai. I am sitting on my bed naked, under a mosquito net, with my meditation cushion serving as a small table for my laptop and a bottle of water and mosquito repellent within reach. I assume it looks plenty ridiculous and it is not the most comfortable way to write but it is the most comfortable way to write given the circumstances. I find it amusing. I am not tempted to take the picture myself because it would involve something with a timer and that is way too technical for me plus it is dangerous outside my mosquito net. So you have to settle for a pic of the beach I took this morning.
I feel good about myself. I started my solo retreat. I meditated about 1 hour and 45 minutes today, swam about 1 km, did some strength exercises and ate healthy and moderate. I feel my system is quieting down, I feel that nature is taking care of me.
I am reading a book called "Autobiography of a Yogi" by Paramahansa Yogananda and I find it very fascinating (and humbling). It is published in 1946 and written by a yogi who lived from 1893 to 1952. He was the first yogi master to come to the United States. I have read about 200 pages and at this point he is still called Mukanda. He talks about his spiritual path and the remarkable encounters he had. The thing is, all these stories are mind-blowing if you can believe them or just or just ludicrous if you can't.
Mukanda has a yearning to know God. A true guru is a man who lives in complete union with God. He has achieved this through long, intense and precise training. From a very young age on Mukanda searches for masters in his life to show him the way.
All the masters he describes in his book do things like Jesus did. They heal themselves or others instantaneously from fatal diseases, they materialize food or jewelry, they read thoughts, can see the future, materialize a second body and be at two places at the same time or rise from death. Until now I always thought these things should not taken literal but metaphorically.
Apparently the highest yogi's are not limited by any boundaries like body, time and space. These guys are so far out of my league that it is hard to relate. But it does fascinate me. I had peeks into the blissful states of consciousness that they can enter at will. Some of these experiences transformed me pretty drastically. I can only imagine how it would feel if one spends 20 years in such a state, meditating in a cave.
What inspires me is their complete and total trust in the Divine. All prayers are heard and there is a plan for everybody. It is not a passive acceptance, the way to God is to master body and mind completely.
When I got here I felt grumpy, unhappy. I was wondering (and doubting) if the sadness would ever go away. But on the second night I made a walk on the beach, under the stars. I was alone. I felt the calmness come over me. There is a time and a place for everything. Some things just need time to ripen. Although I am not sure what is ripening in me I will make sure to give it some more sun and water.
Watch this video of me and the Holy Cow who was sent to cheer me up when I arrived.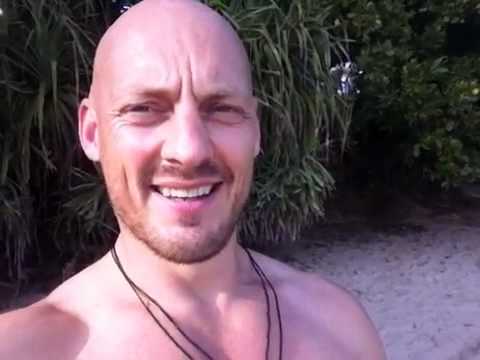 Do you appreciate what I am doing? Please support me and my journey by recommending and sharing my posts on Facebook. It is such a small effort and really important (let me explain). And please consider making a financial, moral or relational contribution. Your help means a lot (readhere how amazing it feels).