Between Israel and Jordan, Northern Crossing, No man's land
I'm in between the border of Jordan and Israel. It is kind of eerie: I am literally the only 'client' that is on the premises right now. I have the whole customs building to myself, no waiting in lines, nothing. I was the only one at the exit tax window, alone at the passport check, the only one walking through the tax free shop and now I'm the only one waiting for the empty bus to drive me to the border (the bus driver went for coffee and wants to wait till more people come so I am assuming that this could take while). I guess not many Israeli's are going to Jordan these days. Must be strange to work here. Must cost a lot of many too because apart from me there is plenty of bored, not too friendly personnel.
I will travel to Amman, Jordan today and fly to Beirut, Libanon tomorrow. This means I will not see much of Jordan. It is one of the sacrifices I made. To get to know Ilana and her place better I had to be there more than2-3 days. This also means that I didn't do any touristy stuff near the Dead Sea. I regret that and I don't. I wonder how come I'm not so curious and sometimes think I need to develop a more outgoing approach. But on the
other hand I seem to be more about being than doing. I also enjoy these lost hours in between: writing in an ugly, unappealing place like this border, an airport or a plane.
I have no idea what Beirut will bring me. The few plans that I had all fell apart. I have received a couple of tips from friends and readers and I connected with some of these people. But they are busy, traveling or otherwise unavailable. So everything is open. I have a deep wish to spend more than a couple of days doing some serious hiking and I really would like to laugh hard. I have met some really cool and friendly people but that doesn't mean everybody had exactly the same sense of humor as I.
By the way, I am not the only passenger waiting for the bus anymore. It took 30 minutes but two Arab girls joined me in the waiting space. I will share a taxi to Amman with them. Strange, I hear them chatting behind me and within an hour or so we will be in the same taxi for quite a while and most likely get to know each other a little bit.
I got taken out of the bus from Jericho to Beit Sha'an at a check point, for security reasons. The bus driver didn't feel like waiting (what a surprise)  So I found myself in the middle of nowhere without transportation. I asked a man on a parking lot if he could gave me a lift. He dropped me off at a junction one town before mine. I must say, I kind of liked the feeling: the feeling of being in between, one my way from one adventure to the other, carrying all my possessions on my back.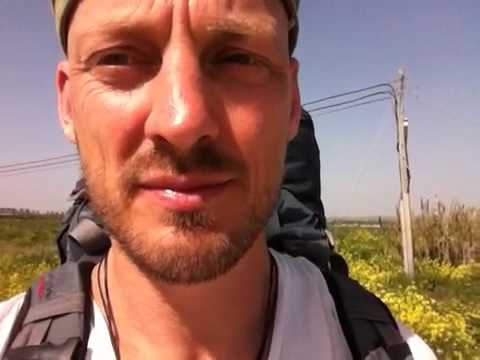 I am a blessed man. I don't mean that metaphorically, I mean that literally. People bless me because they feel that what I do is important. This is something I never could have imagined before departure and I also never expected it to feel so powerful. It is not in our Dutch culture and vocabulary to bless somebody. But when I leave people give me their blessings. Miles gave me his blessing, Ilana gave me the most beautifully
phrased blessings ever, Adinah did a beautiful job too, her son Ohr Eden (the young Chassidic groom) gave me a powerful blessing, many of the Chassicic men blessed me, I received a blessings from young Palestinans. Looking back on my stay in Israel I feel tremendous gratitude. The blessings make me softer, they give me courage and selfworth. I find it hard to swallow that I deserve al these blessings but I am thankful. Very thankful.
My bus driver is here. I have to go. Next story will be written in Amman